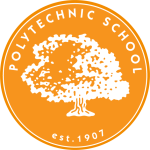 Website Polytechnic School
The Athletic Department at Polytechnic School aspires to compete at the highest level while focusing on the principles established by transformative coaches and leaders, and creating a space where all student-athletes can feel safe and inspired to explore different avenues of their athletic careers.
The Associate Director of Athletics – Communications at Polytechnic School is responsible for developing and maintaining all areas or internal and external communications, including all social media platforms, websites, and press releases. This position is also responsible for overseeing all athletic branding, relationships with outside vendors, CIF communications, as well as other duties assigned by the Director of Athletics.
Communications
● Produces various sports information content including social media posts, such as Rep U, Twitter, and Facebook;
● Engage robustly in fostering diversity, equity, and inclusion to promote a healthy learning environment;
● Updates department branding/style guides, such as send out PantherWear information and reminders to coaches and teams in the beginning of every season, such as:
— Collect PantherWear orders – designs, colors, sizes, quantities
— Review all designs to ensure they follow Poly's style and color guidelines
— Place PantherWear orders to vendor
— Distribute seasonal gear fliers to coaches and teams.
● Maintains athletic website:
— Creates all team pages for each season
— Runs reports of rosters and schedules for various departments
— Updates "Panthers at the Next Level" page
— News stories (1-2x/week)
— Make sure the week's photos from Communications requests are uploaded to MyPoly
— Check Athletics Photography Requests and audit photos from the previous week
— Make additional photography requests, as needed
— Work with Panther Club
— Coordinate team and individual photos
— Create Athletics Playoff Updates community emails during playoffs for each season
— Assign coaches to their team pages on MyPoly.
● Touch base with team liaisons for each sport, each season:
— Coordinate team lunches with team liaisons, if desired
— Encourage and help them find a team photographer and team Tweeter
— Coordinate with the team photographer to get pictures from them throughout the season.
Compliance
● Prepares all CIF-SS reporting (Varsity Rosters & Schedules, CBED, Sanctioned Events, Academic Awards, etc.);
● Verifies the eligibility of all student-athletes;
● Collaborates with Health Office to verify medical information of student-athletes.
Game Management/Logistics
● Supervises athletic events (Home & Away);
● Manages on-campus/off-campus facility usage (PCC, PUSD, etc);
● Maintains game/match contracts for scheduling;
● Schedules officials for all athletic events / Manages payroll for officials (ArbiterPay);
● Coordinates transportation to athletic contests;
— Organizes vans schedule for middle school and upper school
— Lead administrator for school driver training and onboarding
● Arranges and communicates early dismissals from classes;
● Organizes athletic tournaments hosted by Polytechnic School;
● Coordinates senior sports banquet.
College Counseling/Recruitment
● Identifies potential college student-athletes with the College Counseling Department;
● Educates student-athletes and families on the college recruitment process;
● Helps draft athletic resumes and cover letters for student-athletes;
● Serves as a contact person for college coaches;
● Facilitates college signing days.
QUALIFICATIONS
● BA/BS degree. Advanced degree preferred;
● At least five years of  coaching/administrative experience;
● Demonstrated experience creating and supporting athletic media platforms;
● Strong computer and social media skills including previous use of Twitter, Instagram, Facebook, Rep U, and Gipper;
● Ability to manage competing demands and adapt to frequent or unexpected changes;
● Ability to work collaboratively and methodically with students, parents, faculty, and staff on a regular basis.
PHYSICAL REQUIREMENTS AND WORK ENVIRONMENT
● Work in an environment dealing with a wide variety of challenges and deadlines, as well as a diverse array of contacts;
● Work at a desk and computer for extended periods of time;
● Ability to lift up to 30 lbs.;
● Work primarily in a traditional climate-controlled office;
● Work intermittently in outside weather conditions, including extreme heat and cold.
SALARY AND BENEFITS
Polytechnic School is committed to attracting and retaining talented, dedicated employees through a competitive compensation plan that is commensurate with experience. A full benefits package includes medical, dental and vision coverage and a 403 (b) retirement plan.
​​ABOUT POLY
Founded in 1907, Polytechnic School is the first nonprofit, coeducational, K-12, independent school in Southern California. The meaning of polytechnic as "many arts" is reflected in the school's ambitious and student-centered educational program. Nationally recognized as a K-12 educational leader, Poly develops the unique intellect, talents, and character of each student through transformative teaching within a diverse community devoted to academic excellence, the creative arts, the camaraderie of team sports, and service to others.
Poly strives to be an inclusive community that fosters academic excellence and personal growth by ensuring that all of our 870 students, nearly 65% of whom identify as Students of Color, are seen, heard, and valued as their authentic selves. We respect the dignity and worth of every individual and seek to celebrate the joy, the love, and the creativity that emanate from the human spirit.
Throughout our Lower, Middle, and Upper Schools, students, faculty, and staff commit to deepening our understanding and knowledge of ourselves, each other, and our ever-changing world. Within our community of care, Poly students build the confidence and capacity to think critically and creatively to become responsible global citizens and intellectual leaders. Taught by an extraordinary faculty, Poly graduates are ready to fulfill the promise of their talents and lead meaningful, purposeful lives.
To learn more about Polytechnic School, please visit us.
Equal Opportunity Employer
In order to provide equal employment and advancement opportunities to all individuals, Poly will recruit, hire, train, and promote faculty and staff without regard to an individual's race, color, sex, gender identity, genetic information, sexual orientation (including heterosexuality, homosexuality and bisexuality), national origin, ancestry, citizenship status, uniformed service member status, marital status, pregnancy, age, medical condition and physical or mental disability (whether perceived or actual), or any other consideration made unlawful by federal, state, or local laws School policy also prohibits unlawful discrimination based on the perception that anyone has any of those characteristics, or is associated with a person who has or is perceived as having any of those characteristics. This policy governs all aspects of employment, including selection, job assignment, compensation, discipline, termination, and access to benefits and training.
Associate Director of Athletics – Communications