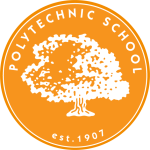 Website Polytechnic School
The Polytechnic Extended Program (PEP) provides a space where students practice the skills needed to be contributing members of our school community and the world. PEP serves this purpose by providing directed activities and unstructured time with trained and caring staff members. PEP operates daily bus and after-school programs, as well as occasional special event or full-day support.
PolySummer offers K-12 students in the greater Pasadena area the chance to discover new learning experiences and explore Poly's exceptional programs. PolySummer offers more than 200 courses per session for more than 1,000 families a summer.
RESPONSIBILITIES
Specific duties include, but are not limited to, the following:
– Overseeing Polytechnic's bus program, including regular coordination with our vendor, marketing, scheduling, and management of bus community initiatives;
– Assist in the management of the after-school program, including planning, preparing, and implementing activities, engaging students in positive play, and providing behavioral support as needed;
– Engage robustly in fostering diversity, equity, and inclusion to promote a healthy learning environment;
– Assist in the planning and implementation of special activities, i.e. Spring Camp, Kindergarten half-days, full-day programs, and other events as they come up;
– Assist in the planning and implementation of the PolySummer program;
– Provide timely and friendly assistance to all constituents, including interactions via phone, in-person, and digital messaging.
QUALIFICATIONS
– Minimum 2 years working in a school office environment or in youth development;
– Passion for working with children;
– Outstanding communication skills;
– Working knowledge of child development is highly valued;
– Conscientious, self-motivated, diplomatic, discreet, and a strong team player;
– Excellent attention to detail, highly organized and able to work independently;
– Comfortable with and knowledgeable of current online communication technology;
– Excellent written and interpersonal communication skills;
– Ability to manage several projects at once under pressure with frequent interruptions to consistently meet project deadlines;
– Proficient knowledge Microsoft Office Suite. Knowledge of Campbrain an additional asset.
PHYSICAL REQUIREMENTS AND WORK ENVIRONMENT
– Work in an environment dealing with a wide variety of challenges;
– Work while standing or sitting for extended periods of time;
– Ability to occasionally lift up to 35 pounds;
– Work outdoors with no temperature control and in a wide array of indoor spaces.
SALARY
Polytechnic School is committed to attracting dedicated team members by providing competitive hourly compensation commensurate with experience. Expected range is $24-$29 per hour.
ABOUT POLY
Founded in 1907, Polytechnic School is the first nonprofit, coeducational, K-12, independent school in Southern California. The meaning of polytechnic as "many arts" is reflected in the school's ambitious and student-centered educational program. Nationally recognized as a K-12 educational leader, Poly develops the unique intellect, talents, and character of each student through transformative teaching within a diverse community devoted to academic excellence, the creative arts, the camaraderie of team sports, and service to others.
Poly strives to be an inclusive community that fosters academic excellence and personal growth by ensuring that all of our 870 students, nearly 65% of whom identify as Students of Color, are seen, heard, and valued as their authentic selves. We respect the dignity and worth of every individual and seek to celebrate the joy, the love, and the creativity that emanate from the human spirit. Throughout our Lower, Middle, and Upper Schools, students, faculty, and staff commit to deepening our understanding and knowledge of ourselves, each other, and our ever-changing world.
Within our community of care, Poly students build the confidence and capacity to think critically and creatively to become responsible global citizens and intellectual leaders. Taught by an extraordinary faculty, Poly graduates are ready to fulfill the promise of their talents and lead meaningful, purposeful lives.
Equal Opportunity Employer
In order to provide equal employment and advancement opportunities to all individuals, Poly will recruit, hire, train, and promote faculty and staff without regard to an individual's race, color, sex, gender identity, genetic information, sexual orientation (including heterosexuality, homosexuality and bisexuality), national origin, ancestry, citizenship status, uniformed service member status, marital status, pregnancy, age, medical condition and physical or mental disability (whether perceived or actual), or any other consideration made unlawful by federal, state, or local laws. School policy also prohibits unlawful discrimination based on the perception that anyone has any of those characteristics or is associated with a person who has or is perceived as having any of those characteristics. This policy governs all aspects of employment, including selection, job assignment, compensation, discipline, termination, and access to benefits and training.
Assistant to the Director of Summer and Extended Day Programs