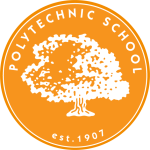 Polytechnic School seeks an Assistant Boys Soccer Coach who will serve as support to the head coach of Poly's boys soccer program. This applicant should be able to support the program by assisting the head varsity coach, leading the junior varsity team, or assisting the junior varsity coach. This applicant should be a creative motivator, have effective communication skills, and possess a positive coaching style. This person will also need to support Varsity-level expectations for the boys soccer program while maintaining strong, healthy relationships with players, parents, teachers, and administrators.
Terms of employment: Hourly Rate
Season: Winter (October – February)
Practices: Monday through Friday, 3:45 to 5:45 p.m.
Contests: Times vary
Compensation: $19-$25
JOB REQUIREMENTS
– Fosters the department and school philosophy and mission statement of Polytechnic School;
– Establishes philosophy and system to teach fundamental skills and techniques to his or her staff and student-athletes;
– Keeps informed and implements league bylaws, rules, and regulations, as well as those of the school's Athletic Department handbook, CIF-SS Blue Book, and National Federation Rules Book;
– Engage robustly in fostering diversity, equity, and inclusion to promote a healthy learning environment.
– Executes contest transportation and early departure time and/or other special arrangements as discussed with the head coach and approved by the athletic director;
– Assists in the care and upkeep of facilities and equipment;
– Maintain team web page (rosters, results, etc.);
–  Other duties as assigned.
QUALIFICATIONS
– Previous high school coaching or equivalent;
– Ability to supervise student-athletes;
– Ability to take instruction from head coach and execute practice plan as needed;
– Driver's license, insurance, and ability to drive school van;
– CPR certification (provided by Polytechnic School Athletic Department);
– Completion of CIF Coaches Principle Course, NFHS Concussion Course, NFHS Sudden Cardiac Arrest Course, NFHS Heat Illness Prevention (provided by Polytechnic School Athletic Department);
– Instill the values of good character and fair play, along with acting as a positive role model.
PHYSICAL REQUIREMENTS AND WORK ENVIRONMENT
– Work in outside weather conditions including extreme heat and cold;
– Ability to lift up to 30 pounds.
ABOUT POLY
Founded in 1907, Polytechnic School is the first nonprofit, coeducational, K-12, independent school in Southern California. The meaning of polytechnic as "many arts" is reflected in the school's ambitious and student-centered educational program. Nationally recognized as a K-12 educational leader, Poly develops the unique intellect, talents, and character of each student through transformative teaching within a diverse community devoted to academic excellence, the creative arts, the camaraderie of team sports, and service to others.
Poly strives to be an inclusive community that fosters academic excellence and personal growth by ensuring that all of our 870 students, nearly 65% of whom identify as Students of Color, are seen, heard, and valued as their authentic selves. We respect the dignity and worth of every individual and seek to celebrate the joy, the love, and the creativity that emanate from the human spirit.
Throughout our Lower, Middle, and Upper Schools, students, faculty, and staff commit to deepening our understanding and knowledge of ourselves, each other, and our ever-changing world. Within our community of care, Poly students build the confidence and capacity to think critically and creatively to become responsible global citizens and intellectual leaders. Taught by an extraordinary faculty, Poly graduates are ready to fulfill the promise of their talents and lead meaningful, purposeful lives.
To learn more about Polytechnic School, please visit us.
Equal Opportunity Employer
In order to provide equal employment and advancement opportunities to all individuals, Poly will recruit, hire, train, and promote faculty and staff without regard to an individual's race, color, sex, gender identity, genetic information, sexual orientation (including heterosexuality, homosexuality and bisexuality), national origin, ancestry, citizenship status, uniformed service member status, marital status, pregnancy, age, medical condition and physical or mental disability (whether perceived or actual), or any other consideration made unlawful by federal, state, or local laws. School policy also prohibits unlawful discrimination based on the perception that anyone has any of those characteristics, or is associated with a person who has or is perceived as having any of those characteristics. This policy governs all aspects of employment, including selection, job assignment, compensation, discipline, termination, and access to benefits and training.
Assistant Boys Soccer Coach